Description
Introducing the 4xiDraw V1 / XL: A special edition 4xiDraw V1 / A4 with extended "Y" Travel
---
The 4xiDraw V1 is a simple, modern, precise, and versatile pen plotter, capable of writing or drawing on almost any flat surface. It can write with your favorite fountain pens, permanent markers, and other writing implements to handle an endless variety of applications. Its unique design features a writing head that extends beyond the machine, making it possible to draw on objects bigger than the machine itself. The 4xiDraw V1 / XL is a special extended edition of the 4xiDraw V1.
While identical in all other aspects, it has twice the travel distance in the X direction, for a total travel area of 23.42 × 8.58 inches, or 595 × 218 mm — enough to fit two full end-to-end pages of US Letter or A4 size paper. Note that this is a "long and skinny" plot area: If you are looking for two pages side by side, or using 11 × 17 inch Tabloid/Ledger or A3 size paper, please consider the 4xiDraw V1 / A3 instead.
---
Applications:
---
4xiDraw V1 is an extremely versatile machine, designed to serve a wide variety of everyday and specialized drawing and writing needs. You can use it for almost any task that might normally be carried out with a handheld pen. It allows you to use your computer to produce writing that appears to be handmade, complete with the unmistakable appearance of using a real pen (as opposed to an inkjet or laser printer) to address an envelope or sign one's name. And it does so with precision approaching that of a skilled artist, and — just as importantly — using an arm that never gets tired.
Personalize and sign certificates
Formal invitations
Work with small and irregularly shaped paper
Party invitation with fine-point markers
Printing text with a fountain pen
Stipple drawing with pen
Precision drawing with rollerball pens
4xiDraw V1 is used by a genuinely diverse range of people, including (to name a few):
Digital artists, using 4xiDraw V1 to plot their artwork
Celebrities, politicians, and elected officials, using 4xiDraw V1 as a signature machine
University officials and other educators, to sign diplomas and certificates
Educators, introducing students to digital design and fabrication
Real estate and insurance agents, who would very much like you to open their "handwritten" envelopes
Online retailers, including a personalized thank you note with your order
Hotels that would like to leave a personalized welcome note for guests
Makerspaces and hackerspaces, providing a versatile low-cost fabrication tool
Tinkerers, extending 4xiDraw V1 beyond writing implements (etching tools, lasers, LEDs for light painting, vacuum pick-up tools, etc.)
Pen and ink manufacturers, using 4xiDraw V1 to test their pens and inks
Smartphone and tablet hardware makers, using a stylus to test their hardware
Mobile device software authors, using a stylus to test their software
People without use of their hands, who would like to send "handwritten" letters
Woodworkers, laying out joinery markings directly onto wood
Research scientists, as a low-cost XY motion platform
Galleries, for numbering of limited-edition artwork
Calligraphers, who could use a little wrist relief for certain types of busywork
---
Handling pens and paper:
---
Printable area: US Letter + A4 (X2)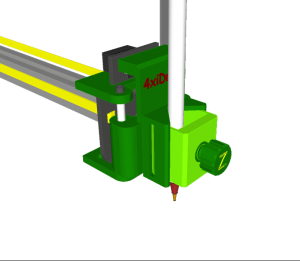 Pen holder: Vertical configuration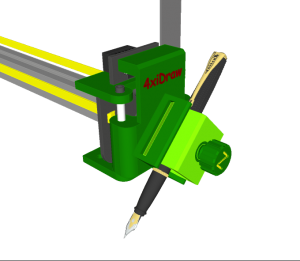 Pen holder: 45-degree configuration
Pick the right angle for each writing implement
The XY travel (printable area) of the 4xiDraw V1 / XL is just over twice US letter (8 1/2 × 11″) and A4 (297 × 210 mm) paper sizes: You can think of it as 230 × 600 mm size. It can work with any paper up to and including that size, including envelopes, note cards, and business cards — or a whole array of them.
The 4xiDraw V1 comes with a mounting easel (board with clips) that can be used for holding paper, cards, and envelopes of various sizes. However, its unique design features a drawing head that extends beyond the body of the machine, making it possible to also draw on flat objects bigger than the machine itself. For example, you can set it right on top of a box to write an address or add decorations. You can even set it on top of a poster board, chalkboard, or whiteboard to draw graphics in place.
The pen holder fits a wide variety of pens, including Sharpie fine and ultra-fine point markers, most rollerball and fountain pens, small-bodied whiteboard markers, and so forth. It can even hold a fountain pen at a proper angle of 45° to the paper. You can also use implements that aren't pens, such as pencils, chalk, charcoal, brushes, and many others. However, you'll get the best results with instruments such as fountain pens and rollerball pens, which do not require the user to apply pressure.
---
Getting Started
---
The 4xiDraw V1 comes fully assembled, tested, and ready to use, right out of the box. A universal-input plug-in power supply is included with the 4xiDraw V1, as is a USB cable, and an optional paper-holding easel. Assuming that you've installed the software first, you can be up and plotting within minutes of opening the box.
To operate 4xiDraw V1, you will need a reasonably modern computer with an available USB port (Mac, Windows or Linux), plus internet access to download necessary software. Pens and paper are not included. (You can use your own! 4xiDraw V1 does not require proprietary pens or paper.) 4xiDraw V1 is normally controlled through a set of extensions to Inkscape, the excellent, popular and free vector graphics program. Basic operation is much like that of a printer driver: you import or make a drawing in Inkscape, and use the extensions to plot your text or artwork. It's all handled through a straightforward graphical user interface, and works cleanly on Mac, Windows and Linux.
---
More about 4xiDraw V1
---
4xiDraw V1 is the first-generation version of the 4xiDraw V1, redesigned from the ground up for high performance. It features smooth rolling wheels on custom aluminum extrusions, specially designed for high stiffness and light weight. Its sturdy, rigid construction gives it finer quality output and in most applications allows it to operate with significantly higher precision and speed than competing and previous generation machines.
Inspired by and source code from AxiDraw.
AxiDraw is a project by Evil Mad Scientist Laboratories.
4xiDraw V1 is a clone of the famous Axidraw. It's a plotter to draw. However, unlike AxiDraw, it is a drawing plotter that provides basic
Bluetooth
and has a hardware homing function and is easy to use. Used an "Arduino Nano" control card and a "CNC Shield" card. Using the "Inkscape" vector graphics program along with a special "plug in", you can create several G-Code files, starting with a drawing. Universal G-code Sender (Java) will do the rest.
4xiDraw V1 machines are designed and manufactured by Zalophus's DesignHouse, with both foreign and domestic components. 4xiDraw V1 comes with lifetime support. We stand by our machines, and we're here to help whenever you need it.
---
What comes with the machine:
---
The 4xiDraw V1 drawing machine, fully assembled, tested, and ready to use.
Universal-input plug-in power supply with US-style plug. For other regions, an inexpensive plug shape (but not voltage) adapter will be needed.
---
Additional specifications:
---
Performance:
Usable pen travel: 230 × 600 mm (Twice as long as A4 size)
Vertical pen travel: 14 mm
Maximum XY travel speed, rapid: 280 mm per second.
Native XY resolution: 80 steps per mm
Reproducibility (XY): Typically better than 0.1 mm at low speeds.
Physical:
Major structural components are machined and/or folded aluminum.
Holds pens and other drawing instruments up to 16 mm diameter.
Overall dimensions: Approximately 460 × 841 × 117.5 mm
Maximum height with cable guides: Approximately 250 mm
Footprint: Approximately 120 x 746 mm
Physical weight: 3.3 kg
Dimensional shipping weight: 4.7 kg
Software:
Drive directly from within Inkscape, using the 4xiDraw V1 extension.
Compatible with Mac, Windows, and Linux.
You can download all the software for free as open source.
Internet connection is required to download the software.
Provides the iDraw Controller Android app that can be used on Android smartphones.
Programming interfaces:
Note: You don't need to program to use 4xiDraw V1.
RESTful API that can be accessed by full machine control, standalone or running in the background.
A simplified "GET only" API is also available for use in programming environments that only allow URL retrieval (eg Scratch, Snap).
You can also control the system (indirectly) with code that generates SVG files.