Description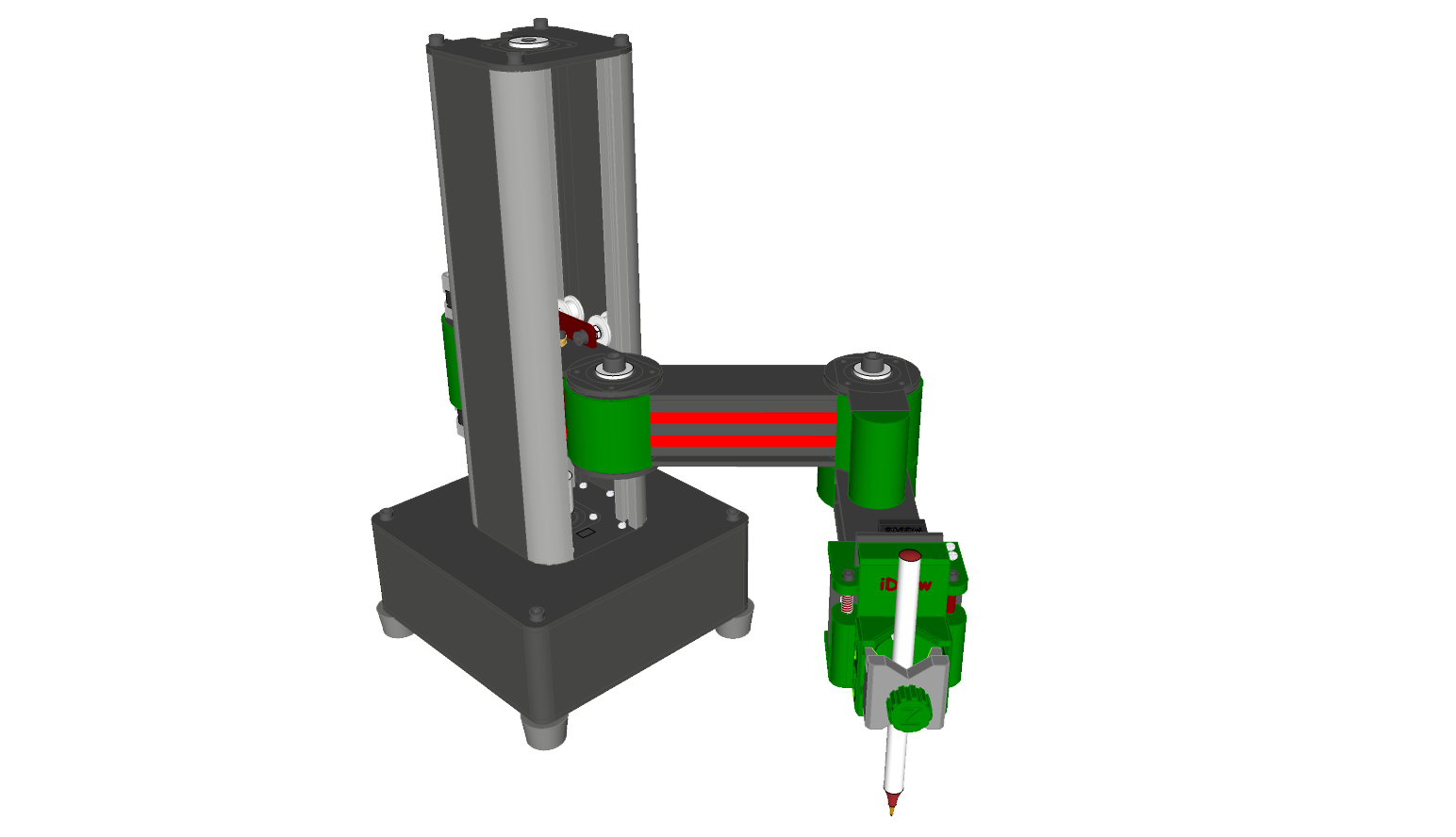 iDraw SCARA is a cost-effective intelligent robotic arm. With high precision, wide working range, complete functions and secondary development, it provides users more ways to use. iDraw SCARA can realize multiple functions of assembly line work such as soldering, visual recognition and PCB plug-in, helping to construct the intelligent system.
No complex installation is required, iDraw SCARA can be connected just in one step.
The simple and concise mechanical structure enables iDraw SCARA to work efficiently and it's perfect for various assembly line work.
Standardized intelligent interface and open programming language make iDraw SCARA highly extensible. With different accessories, iDaw SCARA can realize diverse functions.
With lightweight body, easy installation and various controls, iDraw SCARA can help you quickly complete the work including production and packaging.
iDraw SCARA can finish assembly line tasks instead of manual work, and can be perfectly qualified for tasks required high precision such as PCB plug-in, soldering and gluing.
With the visual recognition suite, iDraw SCARA can work like eyes to recognize and sort objects with different colors and shapes.
iDraw SCARA can be used for product quality check. With industrial cameras, iDraw SCARA can recognize defective products quickly.
Enterprises can save plenty of time and cost by setting up automatic product line with iDraw SCARA for automatic packing.
iDraw SCARA can carry, assemble, sort and pack products instead of manual work, so that the production process can be simplified and production efficiency gets improved greatly.
One of iDraw SCARA's key benefits is that it is open source and customizable, making it easy to create a machine that meets your needs. iDraw SCARA ships in multiple boxes that you assemble upon arrival. This modular building design makes iDraw SCARA one of the most affordable Robotic Arm on the market and the perfect addition to workshops of all sizes.
We provide very detailed assembly instructions as well as a step-by-step setup program to configure the electronics. Once iDraw SCARA is assembled, simply plug the USB cord into your computer, fire up our free design software, and you're ready to get ready.
---
Specifications
Reach
300 mm
Payload
1.0 kg
Maximum magnitude :
Type
Mechanical limitation
Software limitation
Rear arm
-90° ~ 90°
-85° ~ 85°
Forearm
-140° ~ 140°
-135° ~ 135°
Z-axis screw
0mm ~ 250mm
10mm ~ 235mm
End-effector rotation
unlimited
-360° ~ 360°
Maximum speed :
Joint speed of Forearm and Rear Arm
180°/s
Resultant speed of the Forearm and Rear Arm
2000 mm/s
Speed of Zaxis
1000 mm/s
Repeatability :
0.02 mm
Collaborative function :
support sensor-free collision detection and teaching and playback
Input Requirements of Power Adapter :
100 ~ 240 V, 50/60 Hz
Communication interface :
USB, Bluetooth
I/O :
22 digital outputs, 24 digital inputs, 6 ADC inputs
Software :
GRBL Controller
System :
Linux, macOS, Window
Work Area
---
– X-axis: 600 mm
– Y-axis: 300 mm
– Z-axis: 160 mm
---
Machine Footprint
---
– X-axis: 180 mm
– Y-axis: 180 mm
– Z-axis: 395 mm
---
Accuracy
---
A properly tuned and calibrated machine should get to a resolution of ~0.075 mm to 0.13mm.
---
Electronics
---
– Firmware: Zalophus Dokdo Controller with Grbl Installed (Bluetooth)
– Input voltage: 115 VAC or 230 VAC (selectable), AC to DC Converter: 12 VDC/3 A
---
Rapid rate
---
– Recommended defaults:
— X-axis: 8000 mm/min ~ 15000 mm/min
— Y-axis: 8000 mm/min ~ 15000 mm/min
— Z-axis: 500 mm/min ~ 1000 mm/min
---
Applications
---