4xiDraw V1 Support Tools
---
---

Inkscape 0.92.2
Inkscape is a professional vector graphics editor for Windows, Mac OS X and Linux. It's free and open source.
---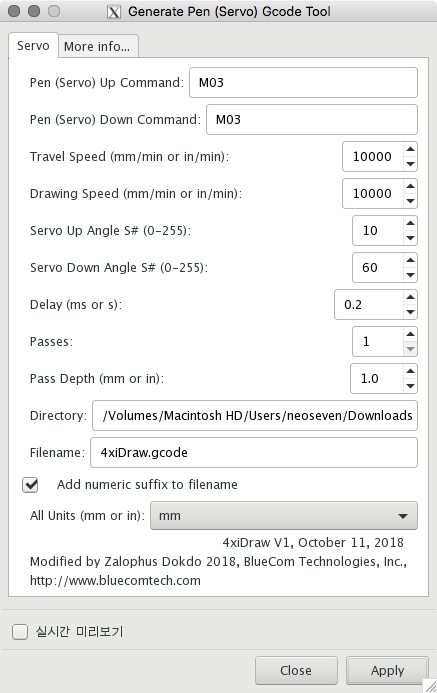 To Install this tool all files to /Inkscape/share/extensions To Access the tool inside Inkscape go to your menu Extensions/4xiDraw Tools/Generate Pen (Servo) Gcode Tool
---
Controller
---
Universal G-Code Sender is a Java based, cross platform G-Code sender, compatible with GRBL and TinyG/g2core. Use this program to run a GRBL or TinyG/g2core controlled CNC machine.
| Version | Description |
| --- | --- |
| UGS Classic | The nightly build of the classic version with a clean and lightweight user interface |
| UGS Platform | The nightly build of the next generation, feature packed version based on the Netbeans Platform |
---
Other GUIs
---
A GCode sender for up to two GRBL controller. SVG, DXF import. 4th axis support. 6 axis DRO.

---
LaserGRBL [Windows]
Laser optimized GUI for Grbl http://lasergrbl.com
Simple & Minimal Interface designed for Grbl v1.1
jpg,bmp,png Image import (Image Vectorization, Grayscale Lines, Dithering 1bit)
2D Graphic preview for engraving/cutting (with grayscale mapping)
Easy-To-Use Overrides control
User defined buttons, power to you!
Grbl Configuration Import/Export
Configuration, Alarm and Error codes decoding for Grbl v1.1 (with description tooltip)
Homing button, Feed Hold button, Resume button and Grbl Reset button
Job time preview and realtime projection
Jogging (for any Grbl version)
Feed overrides (for Grbl > v1.1) with easy-to-use interface
Multilangual: english, italian, german, french, spanish, danish and brazilian
---
Maintained by retired computer professional @gerritv, GrblPanel is a GUI that implements more advanced features and functionality commonly found in production machines like Haas, Fanuc, etc. All of the required tools for setting up and running a milling job are neatly arranged and designed to be easily accessible based on decades-old accepted workflows in machine shops. GrblPanel currently only works in Windows via .Net v4.5, but will eventually be updated for cross-platform use through Mono.
The iDraw Controller is used to control the 4xiDraw V1 drawing machine. (Bluetooth | USB)