Description
Introducing the 4xiDraw V1 / Mini Kit: A compact DIY-kit version of the 4xiDraw V1
About 4xiDraw V1
The 4xiDraw V1 pen plotters are a family of simple, modern, precise, and versatile machines; capable of writing or drawing on almost any flat surface. They can write with your favorite fountain pens, permanent markers, and other writing implements to handle an endless variety of applications.
The 4xiDraw V1 / Mini Kit
The 4xiDraw V1 / Mini Kit is a special compact addition to the 4xiDraw V1 lineup. Designed for lighter-duty applications, It takes up less desk space and less storage space. It's considerably more portable, too.
The 4xiDraw V1 / Mini Kit is also the only DIY kit model of 4xiDraw V1 that you get to assemble yourself. (All other 4xiDraw V1 models ship fully assembled, tested, and ready to use.)
A Mini Plotter
The 4xiDraw V1 / Mini Kit has a working area of about 105 × 150 mm : Big enough to be useful for a wide range of applications including short notes, postcards, and addressing envelopes.
It's also ideally suited for use as a signature machine, for signing checks, letters, books, or artwork.
Applications
The 4xiDraw V1 is an extremely versatile machine, designed to serve a wide variety of everyday and specialized drawing and writing needs. You can use it for almost any task that might normally be carried out with a handheld pen.
It allows you to use your computer to produce writing that appears to be handmade, complete with the unmistakable appearance of using a real pen (as opposed to an inkjet or laser printer) to address an envelope or sign one's name. And it does so with precision approaching that of a skilled artist, and — just as importantly — using an arm that never gets tired.
What's new in 4xiDraw V1 / Mini Kit?
Versus the original 4xiDraw V1 / A4 Kit, the Mini Kit has been redesigned for easier assembly, better precision, and higher performance. The key change is that the long linear rail that forms the base of the machine — a custom aluminum extrusion in the original Mini Kit — has been replaced with a solid bar of machined aluminum. It's a solid billet of 6061-T6 aluminum, machined in the same precision process as our top-of-the-line 4xiDraw V1 / A3, and then anodized for toughness and a satin-silver finish. This change simplifies a number of the assembly steps, but more importantly has a cleaner overall look and tighter manufacturing tolerances for improved precision. It also adds some mass, helping it to stay stable on your desk at higher speeds.
Who uses 4xiDraw V1?
4xiDraw V1 plotters are used by a genuinely diverse range of people, including (to name a few):
Digital artists, using 4xiDraw V1 to plot their artwork
Celebrities, politicians, and elected officials, using 4xiDraw V1 as a signature machine
University officials and other educators, to sign diplomas and certificates
Educators, introducing students to digital design and fabrication
Real estate and insurance agents, who would very much like you to open their "handwritten" envelopes
Online retailers, including a personalized thank you note with your order
Hotels that would like to leave a personalized welcome note for guests
Makerspaces and hackerspaces, providing a versatile low-cost fabrication tool
Tinkerers, extending 4xiDraw V1 beyond writing implements (etching tools, lasers, LEDs for light painting, vacuum pick-up tools, etc.)
Pen and ink manufacturers, using 4xiDraw V1 to test their pens and inks
Smartphone and tablet hardware makers, using a stylus to test their hardware
Mobile device software authors, using a stylus to test their software
People without use of their hands, who would like to send "handwritten" letters
Woodworkers, laying out joinery markings directly onto wood
Research scientists, as a low-cost XY motion platform
Galleries, for numbering of limited-edition artwork
Calligraphers, who could use a little wrist relief for certain types of busywork
Handling pens and paper
The 4xiDraw V1 comes with a small mounting easel (board with clips) that can hold note cards, envelopes, gift tags and other papers. You can also set the 4xiDraw V1 directly on top of drawing surfaces like boxes, notebooks, and larger papers to add graphics in place. Your paper size is not limited to the working area of the machine; the unique design of the 4xiDraw V1 features a drawing head that extends beyond the body of the machine which allows for drawing on whatever object is positioned in front of it.
The 4xiDraw V1 / Mini Kit uses the standard 4xiDraw V1 pen holder. It fits a wide variety of pens, including Sharpie fine and ultra-fine point markers, most rollerball and fountain pens, small-bodied whiteboard markers, and so forth. It can hold a fountain pen at a proper angle of 45° to the paper. You can also use implements that aren't pens, such as pencils, chalk, charcoal, brushes, styluses on touchscreens, and many others. However, take note that 4xiDraw V1 is generally recommended for use with instruments such as fountain pens and rollerball pens, which do not require the user to apply pressure.
Getting Started
Unlike other models of 4xiDraw V1, the 4xiDraw V1 / Mini Kit is a do-it-yourself kit that needs to be built prior to use. Assembly is straightforward with our comprehensive and highly illustrated instruction manual, which is provided as as a PDF download. You will need to provide certain tools for assembly: Scissors, and small Phillips head and flat head screwdrivers. No soldering is required.
Once you've finished building the 4xiDraw V1 / Mini Kit, the comprehensive 4xiDraw V1 user guide walks you through every step of using the machine.
To operate 4xiDraw V1, you will need a reasonably modern computer with an available USB port, plus internet access to download necessary software. Pens and paper are not included. (You can use your own! 4xiDraw V1 does not require proprietary pens or paper.)
4xiDraw V1 is normally controlled through a set of extensions to Inkscape, the excellent, popular and free vector graphics program. Basic operation is much like that of a printer driver: you import or make a drawing in Inkscape, and use the extensions to plot your text or artwork. It's all handled through a straightforward graphical user interface, and works cleanly on Mac, Windows and Linux. Additional software interfaces available to 4xiDraw V1 owners include 4xiDraw V1 Merge, for auto-populating documents with data sourced from a CSV spreadsheet file.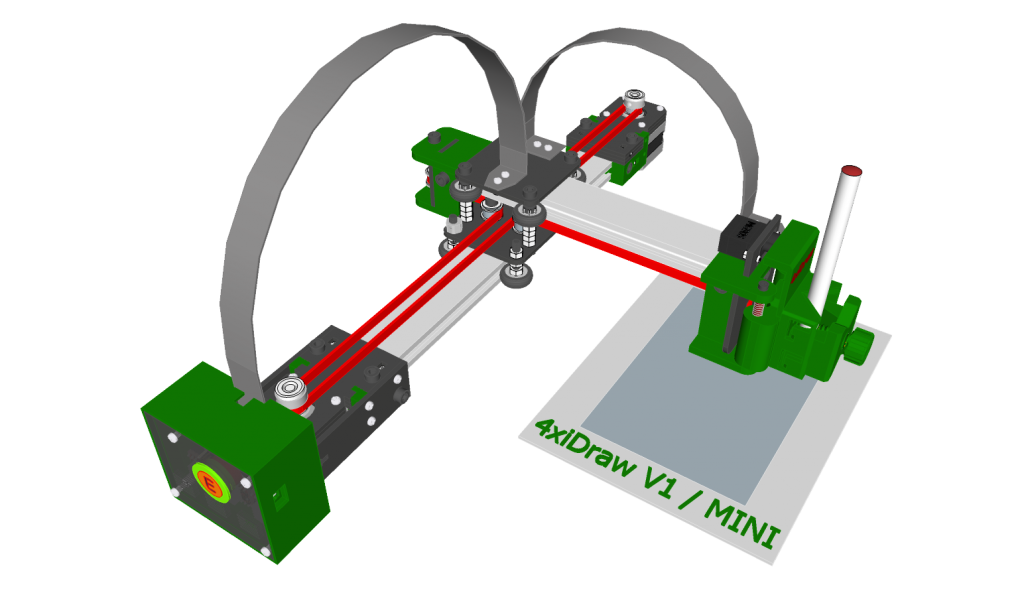 More about 4xiDraw V1
4xiDraw V1 is a project by Zalophus's DesignHouse, working in collaboration with Lindsay Wilson of BlueCom Technologies Inc.
4xiDraw V1 machines are designed and manufactured by Zalophus's DesignHouse in Gunpo-si, Gyeonggi-do, Corea with both foreign and domestic components.
4xiDraw V1 comes with lifetime technical support. We stand by our machines, and we're here to help whenever you need it.
What comes with the 4xiDraw V1 / Mini Kit:
All parts and materials necessary to build the 4xiDraw V1 / Mini Kit writing and drawing machine
Universal-input plug-in power supply with US-style plug. For other regions, an inexpensive plug shape (but not voltage) adapter will be needed
USB cable
Small Easel (Board and clips) for paper holding
Tools needed (not included with the kit):
Scissors or diagonal cutters
Small Phillips-head screwdrivers: #0 and #1 sizes
Small flat-head screwdriver: 2 mm or 5/64″ blade width recommended
Miniature pliers (Recommended but not required)
Small hobby knife (Recommended but not required)
Additional specifications:
Performance:
Usable pen travel: 105 × 150 mm
Vertical pen travel: 14 mm
Maximum XY travel speed: 250 mm) per second
Native XY resolution: 80 steps per mm
Reproducibility (XY): Typically better than 0.1 mm at low speeds
Physical:
Major structural components are machined, extruded, or folded aluminum, manufactured and anodized
Holds pens and other drawing instruments up to 16 mm diameter and 25 g weight
Overall dimensions: Approximately 314 × 460 × 206 mm)
Maximum height with cable guides: Approximately 230 mm)
Footprint: Approximately 76 × 460 mm
Physical weight: 1.8 kg
Shipping weight: 2.2 kg
Software:
Compatible with Mac, Windows, and Linux
Drive directly from within Inkscape, using the 4xiDraw V1 extension
Comprehensive user guide available for download
Driver software software free to download and open source
Internet access is required to download software
Programming interfaces:
Note: programming is not required to use the 4xiDraw
Stand-alone command line interface (CLI)
Available 4xiDraw V1 python API
RESTful API available for full machine control, stand-alone or accessible in the background
Direct command protocol available for use in any programming environment that supports communication with USB-based serial ports
Code that generates SVG files can also be used to (indirectly) control the machine